References and Related Articles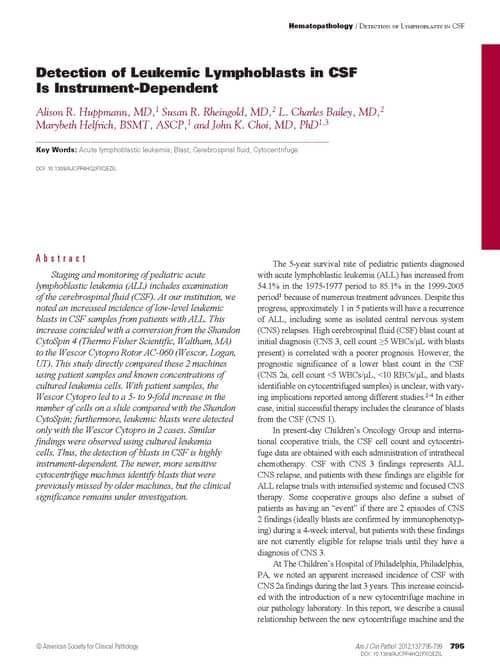 PRODUCT COMPARISON IN DETECTION OF LEUKEMIK LYMPHOBLASTS
At our institution, we noted an increased incidence of low-level leukemic blasts in CSF samples from patients with ALL. This increase coincided with a conversion from the Shandon CytoSpin 4 (Thermo Fisher Scientific, Waltham, MA) to the Wescor Cytopro Rotor AC-060 (Wescor, Logan, UT). This study directly compared these 2 machines using patient samples and known concentrations of cultured leukemia cells. With patient samples, the Wescor Cytopro led to a 5- to 9-fold increase in the number of cells on a slide compared with the Shandon CytoSpin; furthermore, leukemic blasts were detected only with the Wescor Cytopro in 2 cases.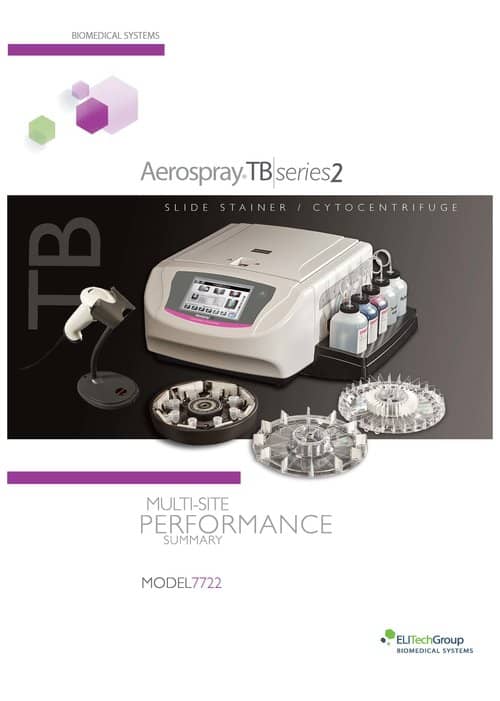 AEROSPRAY 7722 WHITE PAPER
The Aerospray TB Slide Stainer/Cytocentrifuge - Model 7722 has been evaluated in a multi-national study by three independent laboratories. Each lab conducted evaluation studies, and then the study plans, protocols, and results were reviewed by ELITechGroup Biomedical Systems (Logan, UT, USA).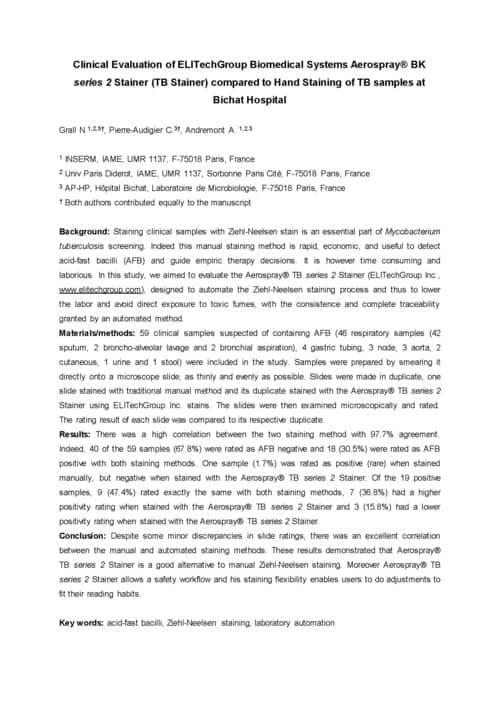 CLINICAL EVALUATION OF AEROSPRAY TB STAINER
In this study, we aimed to evaluate the Aerospray® TB series 2 Stainer (ELITechGroup Inc., www.elitechgroup.com), designed to automate the Ziehl-Neelsen staining process and thus to lower the labor and avoid direct exposure to toxic fumes, with the consistence and complete traceability granted by an automated method.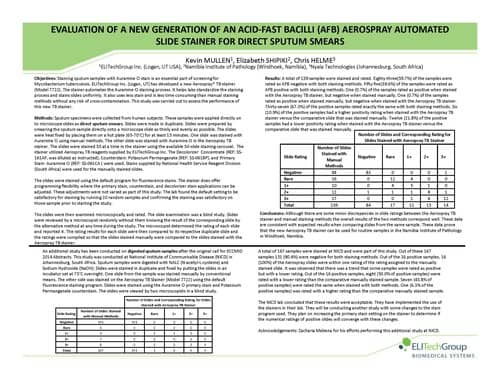 EVALUATION OF A NEW GENERATION OF AN ACID-FAST BACILLI (AFB) AEROSPRAY AUTOMATED
SLIDE STAINER FOR DIRECT SPUTUM SMEARS

Staining sputum samples with Auramine O stain is an essential part of screening for Mycobacterium tuberculosis. ELITechGroup Inc. (Logan, UT) has developed a new Aerospray® TB stainer (Model 7722). The stainer automates the Auramine O staining process. It helps labs standardize the staining process and stains slides uniformly. It also uses less stain and is less time consuming than manual staining methods without any risk of cross-contamination. This study was carried out to assess the performance of this new TB stainer.