Slides Optimized for Aerospray® Slide Stainers
ELITechGroup microscope slides are optimized for Aerospray Slide Stainers, Cytocentrifuges, and CellaVision® Digital Cell Analyzers:

Made of high-quality white soda lime glass
Enables high quality smearing
Single use
Frosted white tip
Labeling surface area compatible with pencils, StatPens, barcodes, etc.
45° clipped corner microscope slides compatible with CellaVision analyzers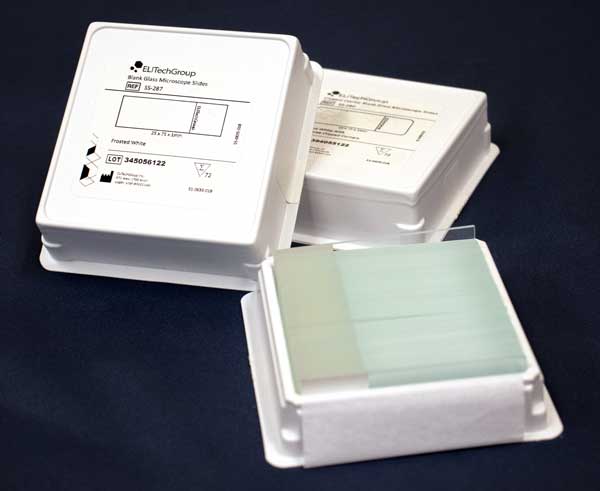 Ideal for use in any application utilizing blank microscope slides:
Clinics and Hospitals
Research Laboratories
Diagnostic Laboratories
Veterinary Clinics
Education
Pharmaceutical
Biotechnology Companies
Academia
Industry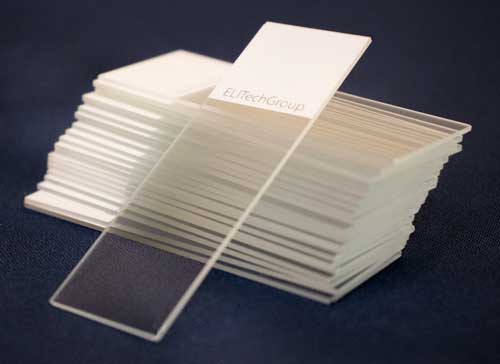 Types of Slides
ELITechGroups Blank Glass Microscope Slides are optimized for Aerospray Stainers. These blank, glass microscope slides come with a frosted white label and are compatible with slide staining technology that utilizes microscope slides for observation under a microscope.
ELITechGroup's clipped corner blank glass microscope slides ensure high quality diagnostic results ideal for use in any application where glass microscope slides with clipped corners are preferred and/or required, such as digital analyzers that need clipped corner slides. With 45° clipped corners, these glass microscope slides are compatible with CellaVision® DM1200, CellaVision® DM9600, and CellaVision® DC-1 analyzers.
Specifications and Important Information
Catalogue numbers:

Blank Glass Slides: SS-287
Clipped Corner Glass Slides: SS-280

Pack of 72 slides
Slide Dimensions: 75.0mm x 25.0 mm (±0.2mm)
Slide Thickness: 1.0 mm (±0.10mm)
Downloads
---
Information Request
Want to learn more about our product, get an official quote, or just get in touch with us at ELITechGroup?
Click Here >